Venue
Al conference events will take place at the Sheraton Hotel Zagreb, Kneza Borne 2.
Sheraton Zagreb Hotel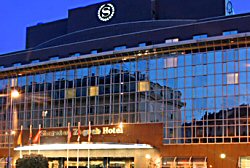 The Sheraton Zagreb Hotel features 306 air-conditioned rooms and suites with classic furniture and marbled bathrooms. The hotel features an impressive, luxurious 280-square-meter Presidential suite, Butler Floor, King Tomislave Restaurant, Fontana Restaurant, Piano Bar, Cafe Imperial, 17 meeting rooms and a 910-square-meter Grand Ballroom. [more about the hotel...]
Zagreb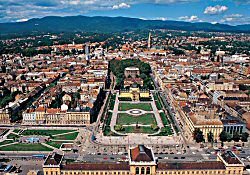 Zagreb is a central European city with a charming combination of Western European business style and Mediterranean informality. Zagreb is also one of Europe's oldest cities and one of Europe's youngest capitals. The city has a population of about 800 thousand, and the metropolitan area of more than 1 mil. Still, the city center is best explored on foot. Every visitor will find a favorite street, park, or square, be it behind the well-preserved walls of its romantic Upper Town, or in a daily hustle and bustle of cafes and stores in its Downtown. Also available are excellent restaurants, museums, theaters, and sports facilities. Further on, the wonderful coast of northern Adriatic, as well as the exceptional Plitvice Lakes National Park, are just a few hours' drive away. [more about Zagreb...]
University of Zagreb
The University of Zagreb, founded in 1669, is the oldest Croatian university and also the oldest university in South-Eastern Europe. It comprises 33 higher education institutions (29 Faculties, 3 Art Academies, and a University centre for Croatian studies), as well as several related institutions, such as the University Computing Centre, the National and University Library, and two Student Centers (in Zagreb and Varaždin). As of November 2008, the number of students enrolled in undergraduate and graduate programs is more than 50.000. The number of employees is about 6.300, with the teaching and research staff of about 4.100. Annual budget is about 170 Million Euro. [more about the University...]
Faculty of Electrical Engineering and Computing (FER)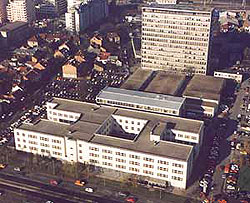 The Faculty of Electrical Engineering and Computing, University of Zagreb (FER) was founded in 1956 (under the name of Faculty of Electrical Engineering). The Faculty comprises 12 Departments, namely: Applied Physics; Applied Computing; Applied Mathematics; Fundamentals of Electrical Engineering and Measurements; Electric Machines, Drives and Automation; Power Systems; Telecommunications; Electronic Systems and Information Processing; Control and Computer Engineering in Automation; Electroacoustics; Electronics, Microelectronics, Computer and Intelligent Systems; Radiocommunications and Microwave Engineering. The Faculty buildings (43308 sqm) include classrooms, laboratories, offices, a congress centre, teleconferencing room for distance education, computing centre, a library, a restaurant, and sports and recreation facilities.
The Faculty employs about 260 teaching and research staff, about 50 research associates, and about 100 administrative and support staff. As of July 2008, the total number of students was about 4000 in the undergraduate program (Dipl. Ing.), and about 800 in the graduate (Master of Science, Doctorate) programs. [more about FER...]
Organized by: University of Zagreb - FER, IEEE Communication Society Croatia Chapter