Mariusz Głąbowski – Modern ICT teaching techniques at EUNICE European University
Abstract
The European University for Customized Education (EUNICE) brings together ten public European universities located in all four European regions, i.e., Poznan University of Technology, University of Mons, University of Vaasa, University of Cantabria, University of Catania, Université Polytechnique Hauts-de-France, Brandenburg University of Technology Cottbus-Senftenberg, University of Peloponnese, Karlstad University, Polytechnic Institute of Viseu.
One of the consortium's main goals is to create the EUNICE campus – a unique, inter-university space where students and faculty participate in market-adapted curricula. The main factors influencing the changes in teaching methods being introduced at EUNICE are physical, hybrid and virtual mobility, a strong connection to research and innovation, consideration of the local needs of the socio-economic environment, consideration of European identity and respect for the priorities of multilingualism and multiculturalism.
At the same time, key to ensuring the highest possible quality of education while minimizing costs is the sharing of EUNICE resources and the use of state-of-the-art digital infrastructure. This goal within EUNICE has been achieved through the creation of service and information sharing platforms that allow open, instant access to resources offered by all project partners.
The talk will present the developed platforms and remote access systems. Among others, the EUNICE Virtual Lab and the EUNICE Integrated Learning Platform will be discussed. These systems are used, among others, for the 3-semester Cybersecurity education program, at the MSc level, led by Professor Mariusz Glabowski, and implemented by five EUNICE partners. The talk will be complemented by a demonstration of the capabilities of remote access solutions for network devices, providing the ability to reserve resources, control device power and console access.
Prof. Mariusz Głąbowski – Curriculum Vitae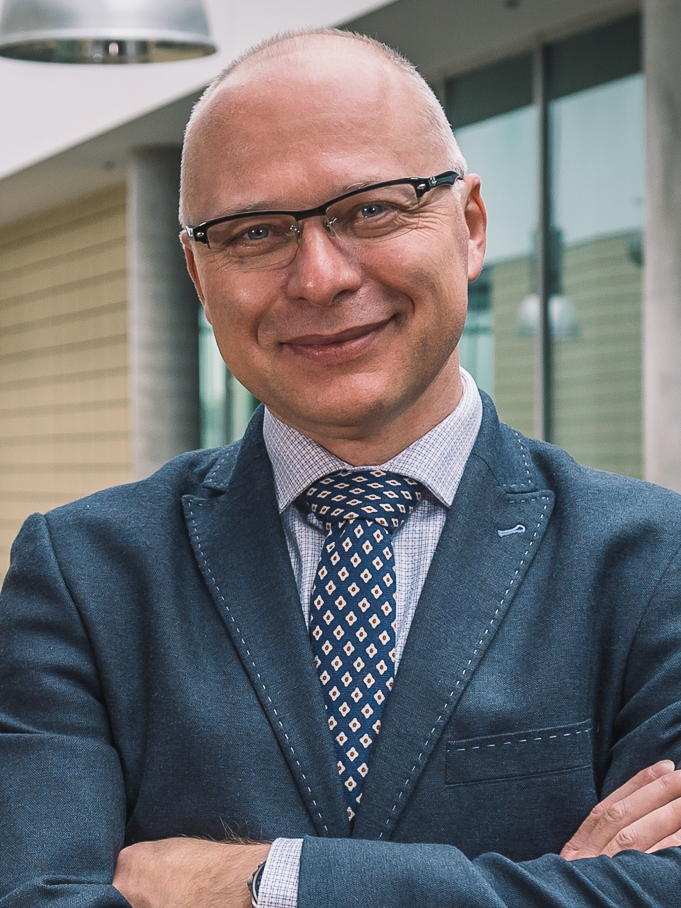 Mariusz Głąbowski received the M. Sc., Ph. D. and D. Sc. (Habilitation) degrees in telecommunication from the Poznan University of Technology, Poland, in 1997, 2001, and 2010, respectively. In 2020 he was nominated as the full profesor by the President of Poland. Since 1997 he has been working at the Faculty of Computing and Telecommunications, Poznan University of Technology. Currently, he is the Faculty vice-dean for science. He is engaged in research and teaching in the area of performance analysis and modeling of multiservice networks and switching systems, telecommunication and computer network, the Internet of Things, and cybersecurity. Prof. Mariusz Głąbowski is the author/co-author of 4 books, 12 book chapters and of over 180 papers which have been published in communication journals and presented at national and international conferences.
He has refereed more than 300 articles and papers for many international conferences and magazines, including: IARIA AICT, IEEE Globecom, IEEE ICC, IEEE HPRS, IARIA International Journal on Advances in Telecommunications, IEEE Transactions on Communications, IEICE Transactions on Communications, IEEE Communications Magazine, Computer Networks, IEEE Communications Letters, IEEE Transactions on Wireless Communications, IEEE Communications Surveys and Tutorials, Performance Evaluation, European Transactions on Telecommunications, IEEE Network Magazine.
Mariusz Głąbowski is a senior member of the IEEE and the IEICE. He is also IARIA fellow. He was the chairman of the Europe Section of the Institute of Electronics, Information and Communication Engineers. Mariusz Głąbowski is/was the member of Technical Program Committees of 40 international conferences. He has also organized several international conferences: IEICE Information and Communication Technology Forum, IEICE Wireless Networks Workshop, IEEE/IET Int. Symposium on Communication Systems, Networks and Digital Signal Processing (CSNDSP 2012), First European, The Forum for European ICT & Media Professionals. Mariusz Głąbowski led and took part in several international research projects.
Currently he is responsible for elaborating and implementing the cybersecurity program in the EUNICE alliance of 10 European universities.